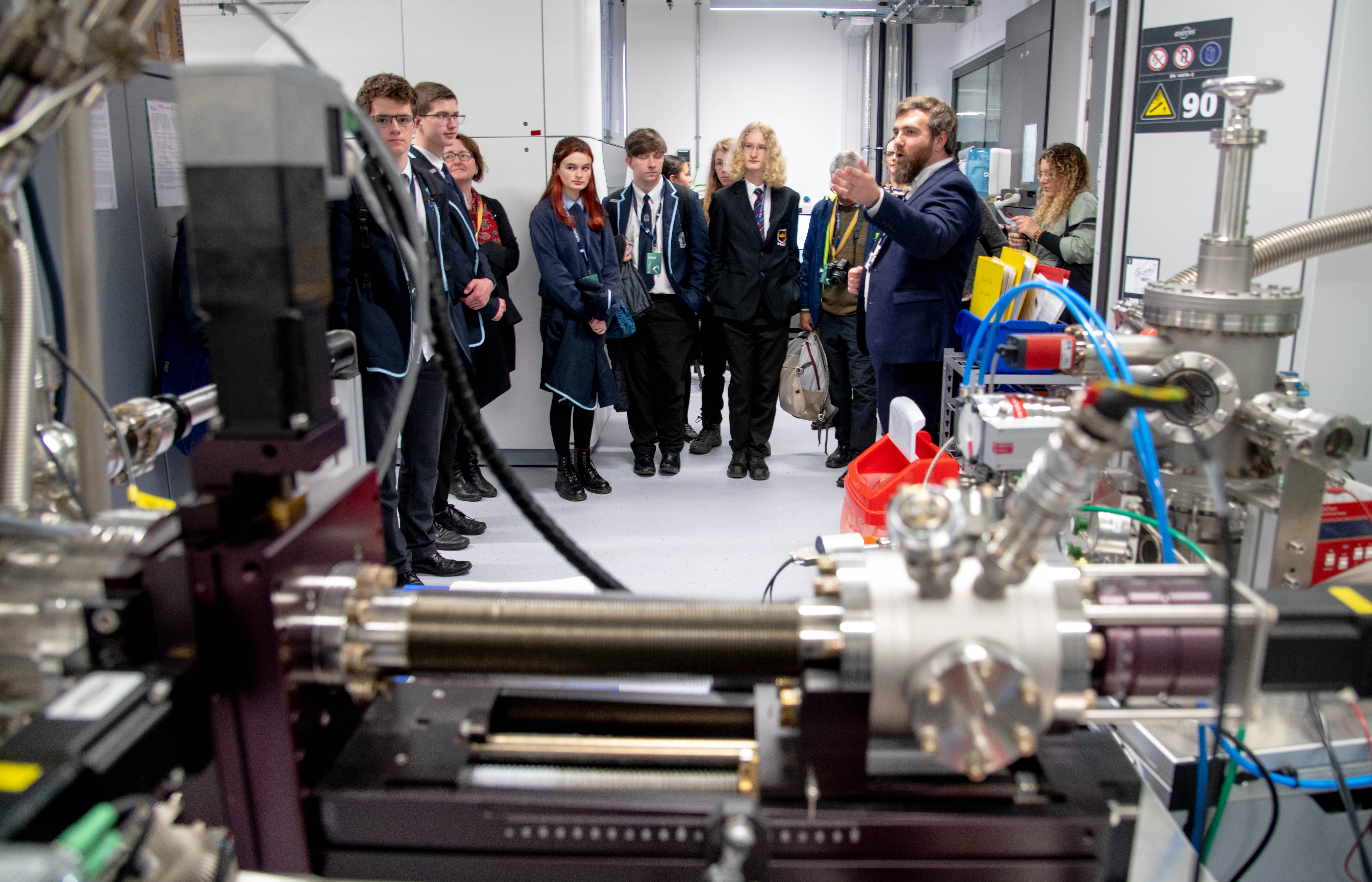 NEWS
Art, science and computer
design at a nanoscale
May 2023
IRIS students met scientists at the University of Leeds to share their research, learn more about nanotechnology and discover potential careers in the materials sciences.
From Derbyshire to Dulwich, schools from across the country gathered at the University of Leeds to witness first-hand the cutting-edge technology of nanotechnology. The students attended a workshop hosted by last year's winner of IRIS' Outstanding Partner Award, the Bragg Centre for Materials Research, led by Dr Andy Lee, centre manager and field expert, and his team.
The workshop was jam-packed with a variety of activities designed to engage and inspire young minds. From insightful presentations by both students and researchers, to hands-on sessions with the latest research tools, attendees had the opportunity to experience the limitless possibilities of nanotechnology and discover potential career paths in the material sciences.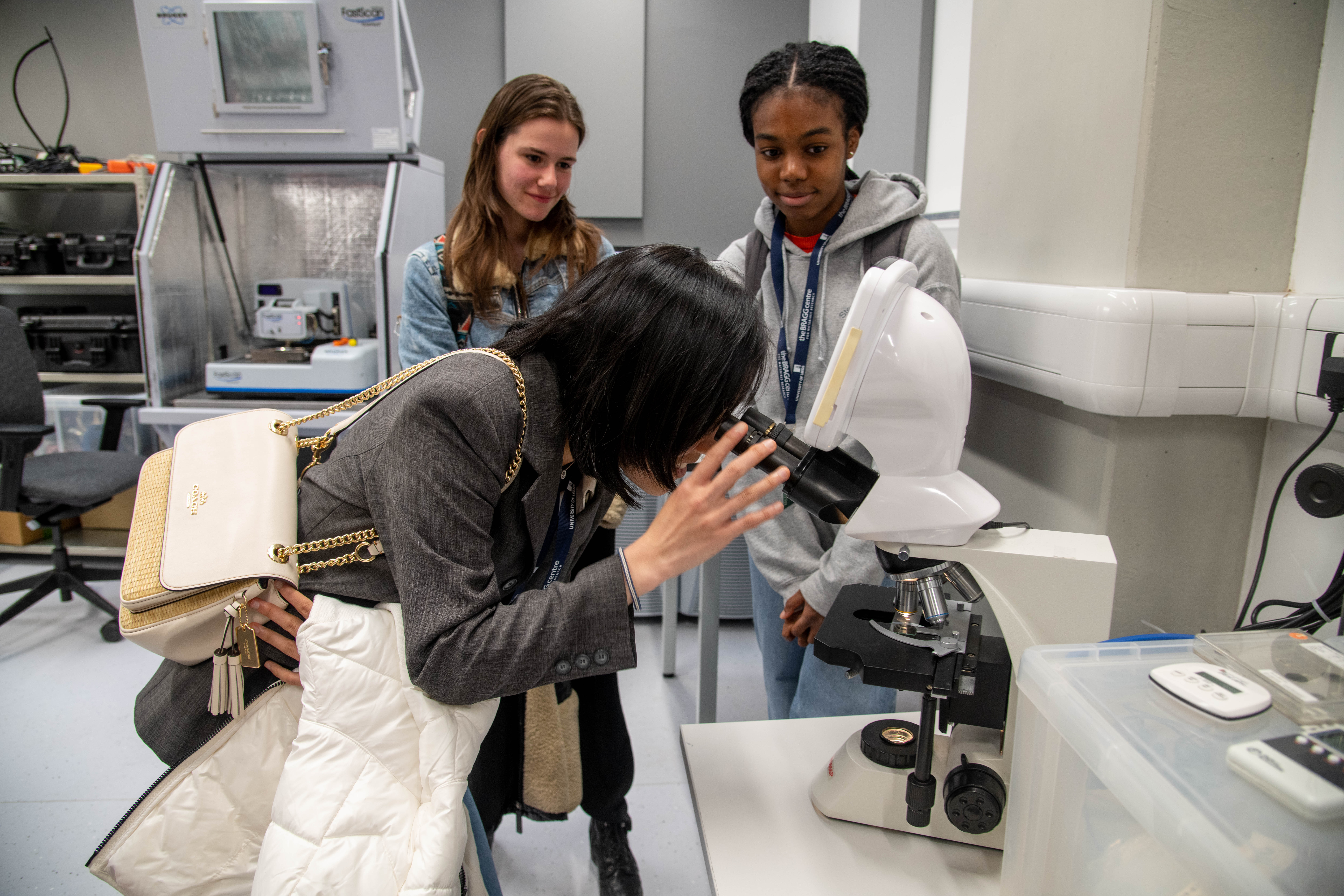 Students were captivated by the practical sessions with the research tools, which allowed them to see the science in action. Freya from Leeds' Ralph Thoresby school said:
"The workshop's been good, it's been interesting to hear from the other school groups about what they've done, and to hear about the different applications in medicine. I liked the chance to use the microscope as well."
A testament to the potential of young scientists, Edward, 13-year-old  from Ralph Thoresby, solved a problem in a programme his school research team used to manipulate DNA by writing a piece of computer code. He shared it with scientists in California who incorporated Edward's fix into their software. He said it was "pretty cool" to see his own work have such an impact.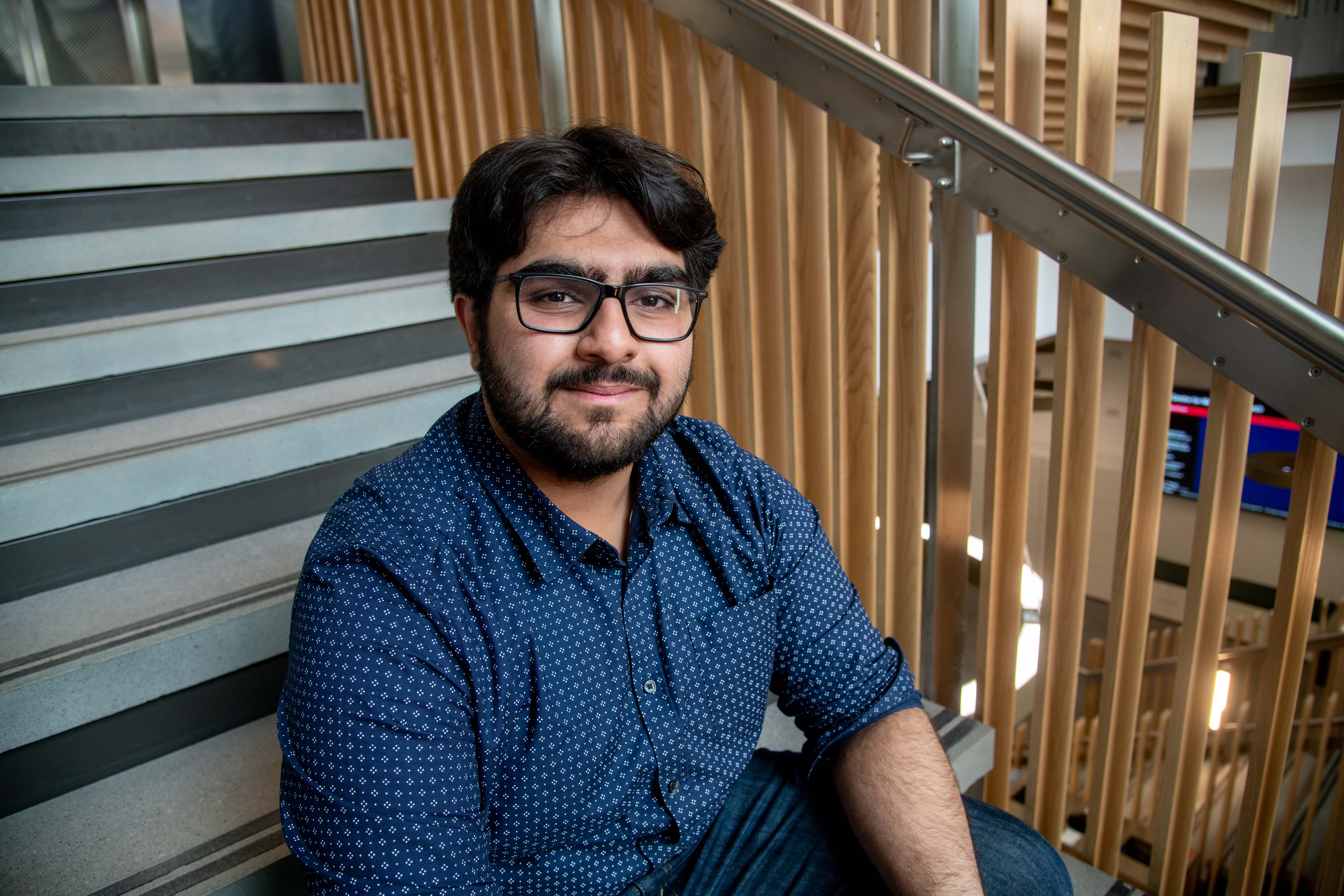 Hamdaan Sheikh, 19, who took part in the DNA Origami pilot project in 2021, said the programme had given him chance to see science properly and put him in the shoes of an academic and a researcher. He was so inspired by what he saw, he dropped plans for a medical degree and is now finishing his first year as an undergraduate studying chemical engineering at the University.
"Getting to interact with the academics and talk to people who are who are so deeply invested in this science allowed me to see that I could be one of them. It let me see that no matter what I did, it could be something revolutionary.
"My message to these students would be that what they are doing now is amazing, but I want them to take the skills they have learnt and use them elsewhere. Analytical skills, research skills, and knowing whether a piece of information is good and worthwhile – you can use those skills in any kind of project."
The students got so much from it, and some came away inspired!
But the event wasn't just about science; it was also about building connections between schools. The networking sessions allowed attendees to exchange ideas and forge valuable connections that could lead to future collaborations.
David Mulvaney, a teacher from Ralph Thoresby, said: "The students got so much from it and some came away inspired. Being exposed to other older students' work, the PhD projects and speaking with the Bragg centre researchers – each 'level' had something to offer. So thank you for that experience."
Mr Mulvaney was impressed by the materials offered through our project which allow students to work more independently: "What's been special about this is the amount of work that has gone into the materials for the students. It's meant they have been able to work independently, rather than relying on teachers, and become the experts themselves."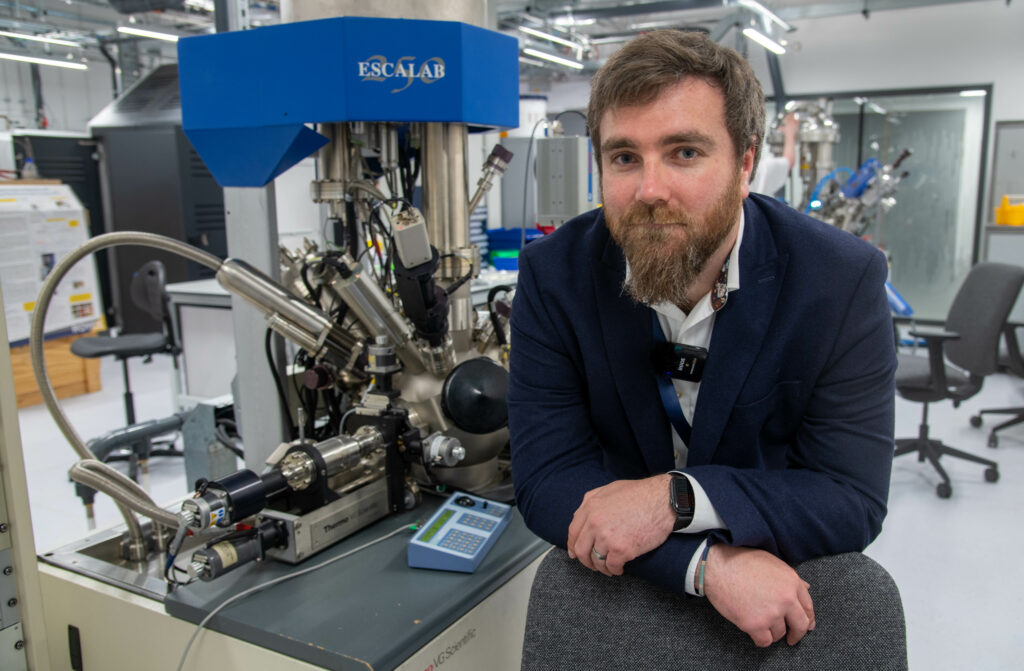 Bragg centre manager Dr Andy Lee enjoyed seeing students as early as Year 8 taking engaged in cutting-edge science:
"Today has been absolutely amazing, it's been wonderful to see the creativity in what the students have come up with. We've had students interacting with our PhD students to learn about their research.
"It's been a really busy and eventful day, and I've been blown away by what the students have created and the engagement they have shown."
It's opportunities like these that spark a passion for STEM
Our director Jo Foster said: "When young people experience science through real research, they begin to truly understand their subjects and, for many, it's opportunities like these that spark their passion for STEM.
"IRIS offers free opportunities and support to state schools to take part in projects like DNA origami. We hope more schools are inspired by what we see today and offer these research projects to their students."
Overall, the nanotechnology workshop was a resounding success. It showed us that the future of science is in good hands, with a new generation of diverse young scientists eager to push the boundaries of what's possible. Who knows what they'll discover next? One thing's for sure – we can't wait to find out!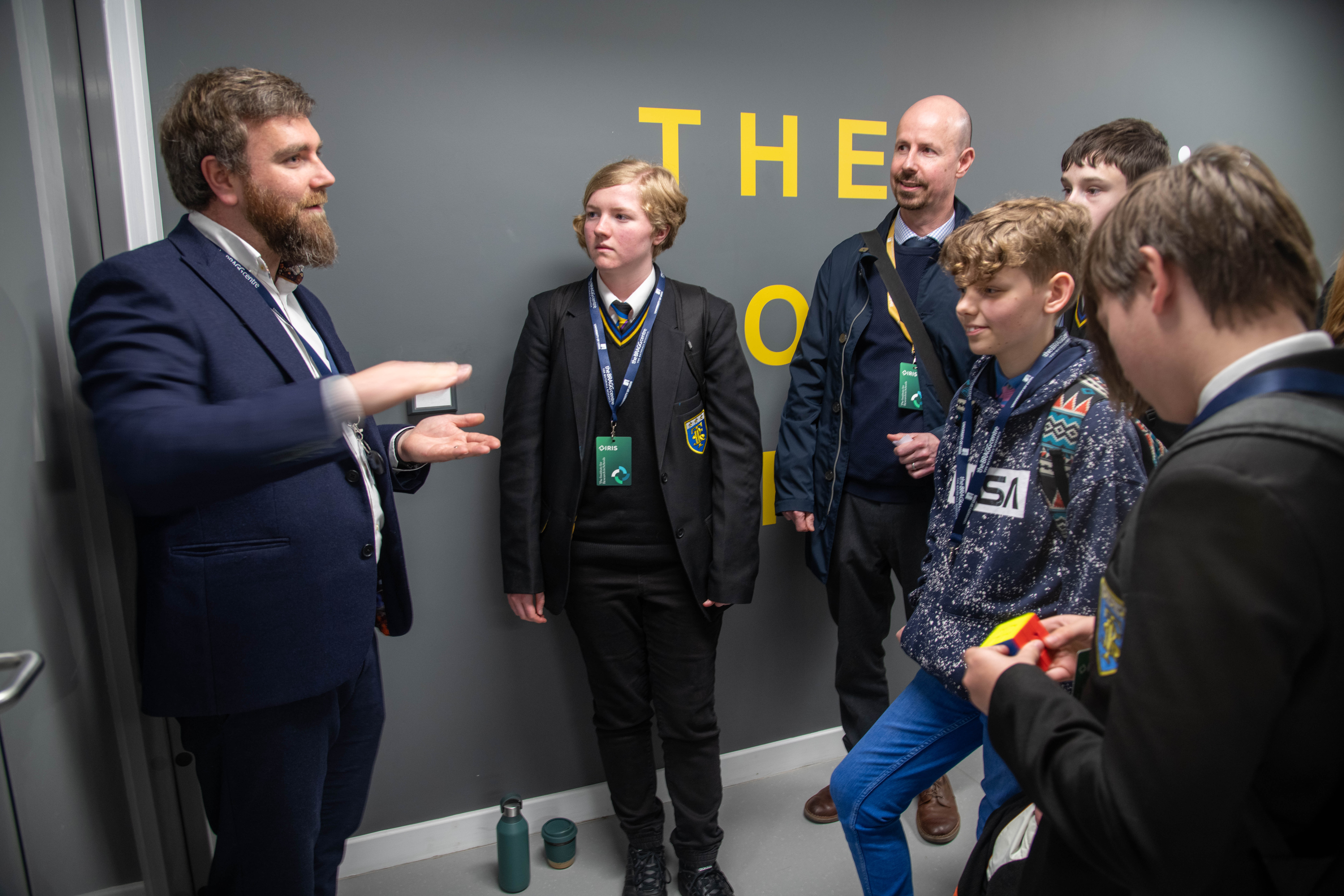 Schools involved included: Lady Manners, Derbyshire; Tapton, Sheffield; Liverpool UTC; Altrincham Boys Grammar School; Ralph Thoresby, Leeds; St Wilfrid's, Featherstone; and Kingsdale Foundation School, Dulwich.
The students are all part of our DNA Origami project, a collaboration between IRIS and the Bragg Institute, with funding from The Henry Royce Institute. Based on the concept of the Japanese art of origami, the project enables students to  learn how to fold DNA to create new and unusual shapes using computer software. They work alongside researchers to investigate the potential applications for this self-building, designer material.
Read more about the event on the University of Leeds website.